It is very important, in your texts and interactions generally, that you do not pander to a woman. Say the words you think she wants to hear, instead of your true opinion, and she'll lose respect for you.

Instead set challenges for a woman, or tease her, to create that spark of attraction where she feels she hasn't quite got your affections yet. Women respond to a challenge, something explained fully in The Girlfriend Activation System.
Teasing texts can be used instead of connecting texts; and if she's running late, or if you disapprove of something she's done, they're also useful in establishing your personal boundaries in a fun and light hearted way.
When?
In-between dates, in place of connecting texts, when she pops into your mind, when you're a little annoyed at something she's done, when you want to ping her after a few days of no contact. The possibilities are endless!
• Take a risk and tease. It's better to overstep the mark and have to recover from that, rather than never doing any teasing and being thoroughly friend zoned.
• Sometimes if she is trying to impress you they can be a useful alternative to over complimenting her. Don't let a girl get complacent in your affections.
• Teases are one way that a woman's mind gets fired up: teasing can make her feel a stronger attraction to you, so use teases pre/post date.
• The basic rule of teasing texts? You are the man, and you are in control.
No response?
Ok she's either: a. Not that into you and can't be bothered to respond. If this is the case you're down to ping game and phone calls. b. You've teased her too hard—if this is the case, tease her about this fact with a 'virtual hug' style text. c. She doesn't know how to respond; if she has just missed one text, or if there is a language barrier, then this might be the case. Stick to clearer texts to reinitiate contact next time.
So where are you taking me for our next hot date? 😉Use role reversals to tease her.

I hate you . . . especially the kissing bit
Tell her that you hate something you actually love about her.
3. Was you texting me last night your equivalent of a love poem?
Tease her for showing interest in you.
What's this *attach image**sound of buzzer* nope . . . guess again . . .Use MMS to create guessing games.

Have I been too mean? If so, is your not replying a sign you want a virtual hug?

Teased too hard? Then recover using this message.
You do know that you're going to lose this argument rightTease her into arguing harder, and investing more.
Did I mention that I love how you keep saying 'no'?Be blasé and persistent in the face of rejection

Don't think I should believe girls who ALWAYS GO TO TIGER TIGER

Say you disbelieve something she said.
Really? You're not just fibbing to impress me 😉Doubt the truth of what she says to get her to justify herself.
10. *attach picture* yes I am boasting now
Use MMS to suggest how cool your life is, just don't try too hard!
11. You better not be EATING PIZZA AT MIDNIGHT again . . .
Use your knowledge of her idiosyncratic habits to tease her.
12. Now you do know I only date ladies . . .
Teasingly tell her what kind of girls you date.
13. I think that qualifies as bad behaviour on your part
Call her out jokingly anytime she behaves poorly.
14. You do know I think punctuality is the sexiest quality a girl can have 😉
If she's running late . . .
15. Running late are we? *makes mental note to slap MIA's wrist*
Use her being late as an excuse to touch her.
16. You're losing brownie points very rapidly over here
Have a brownie points system: which can be won or lost.
17. So I lost a brownie point or two with you yesterday. You can only stay mad at me if you assume I don't have a good way of making it up to you.
Tempt her back into contact.
18. Satisfied yet? Greedy . . . .
Make her out to be demanding.
19. I would say touché but let's face it . . . you like the bickering
Tease her about how much she enjoys arguing with you.
Still angry? *attach cute picture*
Persist in 'winning her back' until you make her smile.
21. Banning you from saying you're a. Tired b. Stressed c. Sad. Feeling that way is strictly disallowed whilst we know each other x
Suggest that you want to make her happy: but in a commanding, non-needy way!
22. So how are you settling in NEW YORK girl? Had to CUT A BITCH yet? 😉
Tease her based on a stereotype of her job/ nationality
23. I think it's cute when you ignore me . . . is someone trying to make a point?
Find her attempts at being mean to you funny.
24. You know I only accept xxx in XXX form?
Tease her about sex, rather than stating it directly.
25. Loser 😉
If in doubt of what teasing message to send . . . .
---
---
Looking to take your text game to the next level?
Check out our honest review of How2TXTHer by Race De Priest now
 In it you can find the exact text messages, and the system he developed, over nine years of sending thousands of texts to hundreds of girls.  No matter what you're struggling with right now, he's probably got the answer to it.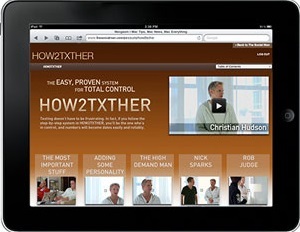 ---